Post by anbukurono on Apr 4, 2011 20:59:19 GMT -5
Name:
Kurono Abuyama
Age:
29
Gender:
female
Height:
5'11
Weight:
110 lbs
Appearance: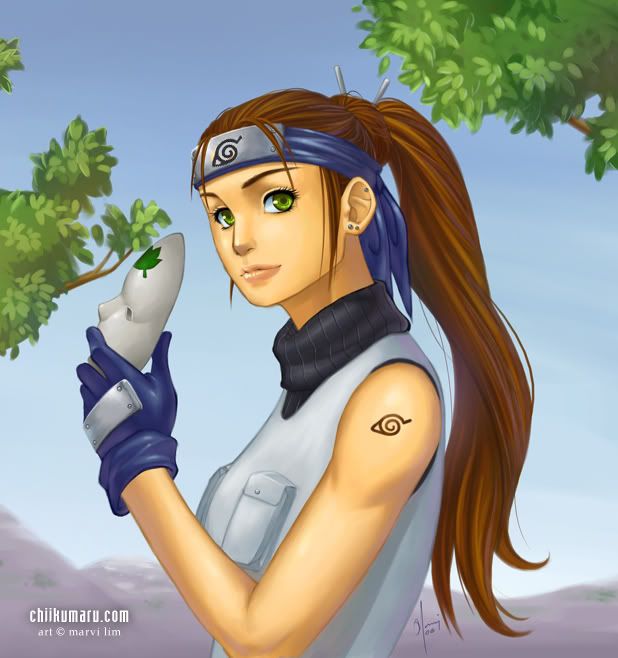 Personality:
Kurono is a person who is able to balance her personality between her personal life and her duty as a ninja to the point that it amazes others. While around those that she cares deeply for she is an incredibly kind and loving person, able of having a fun time with her friends. When faced with one who she dislikes or an enemy however, she is a sarcastic and cold person. Since her change, she's had a slight temper to her personality and when angered is sure to make the one who crossed her pay. She has a dislike of those who are perverted and when catching them, she's sure to discipline them for their act.
Habits:
Still getting excited to a challenge
Relatives:
Grandfather: A, Wife: Ashley, Son: Kohta and Haru, Daughter: Tia
Home Village:
Konoha
Current Village:
Konoha
Clan:
Abuyama
Kekkei Genkai:
Hyouton
Demon/Curse Mark:
Gohane
Transformation:
n/a
Equipment:
Ice bombs, Exploding Note, Smoke Ball, Hyourougan (Soldier Provision Pills), Kunai, Makibishi, Shuriken, roll of wire
Special Equipment:
Kurokoori
Rank:
Jounin
Ninjutsu:
1000
Genjutsu:
200
Taijutsu:
800
Fuuinjutsu:
400
Special:
600
Special Traits:
Skilled in chakra control to the point of being able to use water jutsu without a source of water.
Affinities:
Water, Lightning, Ice (kekkei genkai)
Full Jutsu List:
All academy jutsu
Kage Buushin
Souryuu Boufuusetsu - Twin Dragon Blizzard
Water Tendril- creates a set of tendrils from water
Muon Satsujin Jutsu - Silent Homicide Technique
Suijinheki - Water Encampment Wall
Mizuame Nabara - Starch Syrup Capture Field
Mizurappa - Violent Water Wave
Water Dragon Whip
Mizu Kamikiri - Rising Water Cutter
Hyōton: Tsubame Fubuki- Swallow Snow Storm
Shichuu Shibari - Four Pillar Binding
Mizumyaku
Lightning Fist
Buushin Bakuha
Ikadzuchi no Kiba - Lightning Bolt Fang
Raikyuu
Raigeki no Yoroi
Rairyuu no Tatsumaki
Mizu no muchi
Suigadan
Water summoning
Summonin jutsu- Fox summoning
Elemental Blasts- Uses Gohane's ability to draw in chakra and shoot it as a blast
Water Trumpet
Water Dragon Bullet
Demon Ice Mirrors
Death by 1000 flying water needles
Haryuu Mouko - Destruction Dragon Fierce Tiger
Hyourou no Jutsu - Ice Prison Technique
Rouga Nadare no Jutsu - Wolf Fang Avalanche Technique
Lightning Prison
Ice Dragon Dance
Frozen Requium
Background:
During the course of the Fourth Great Shinobi War the great shinobi villages had been brought together as a single army. While many alliances blossomed, so did a love between the late A's daughter and a man of the Abuyama clan of Konoha. Even after the end of the war, this love did not falter and a year later, Kurono was born of it. Originally born as a male, that would change later on in her life.
She grew up with a happy life through her younger years, greatly admiring the Nidaime Hokage for his mastery of Suiton wanting one day to as great a ninja as him. By age 7, she entered into the ninja academy, keeping up in her classes and especially loving learning new things pertaining to ninja abilities. It was around this time that her Hyouton first appeared, something that excited her greatly with her manipulation of the water's form. With her kekkei genkai revealed, her father trained her in how to control it so she wouldn't accidentally lose control of it. With long training sessions, she brought it under her control and kept it as a primary ace up her sleeve for the rest of her time in the academy.
Graduating at age 12, Kurono was placed into a squad of some of her former classmates. Luckily, the three of them clicked as a team and managed to work well together. The three of them had been close not only as teammates but also as friends, meeting up in the village when not on duty and hanging out together. Half a year after they had become a team, they were put up to the Chuunin exams from their sensei. While they all did well, they hadn't passed their initial exam. It wasn't until 2 years after becoming Genin that they had been able to all become Chuunin.
Between the exams, when the Hanejuu were released from their seal, the Gohane chose Kurono for his vessel, seeing much potential in her and finding her interest in Suiton to be an admired quality of her. While initially being ignorant to his presence, activating his abilities on reflex beyond her control. Kurono soon found that she shared her body with the demon when he made contact with her in her sleep, explaining the situation to her. While not entirely understanding the true nature of what was going on, she seeked the guidance of Naruto asking him about what was going on. Finding out that she was a Jinchuriki, she was told that she had to learn to control the power of the demon as to not put others into harm with it. Going through hard training, she slowly learned to control its abilities.
Shortly after having passed the Chuunin exams, she was challenged by a new girl who was recently taken into Konoha, named Ashley. Fighting hard against her, she noticed quickly that the girl used plant jutsu and rendered her Suiton jutsu useless. In spite of finding ways to get through to the plants with her hyouton, it wasn't fast enough and she was poisoned by the plants resulting in her loss of the fight. Ashley however found a liking to Kurono and nursed her back to health. This started a love between the two of them that would continue on.
At age 18, Kurono passed the Jounin exams and was made into a Jounin of Konoha. It was at this point that her mother had taken over with her training, teaching her use of Raiton as well as the fox summon. During this time, Kurono had seen just how tough of a ninja that her mother really was, striking at her with powerful Raiton based attacks keeping her on her toes. While having never seen this side of her, she was told that it was for her own good. With her help, Kurono was able to add Lightning jutsu to her knowledge, thus having knowledge of specialties from both sides of her family.
Originally having been male, at age 20 Kurono had become a female when being treated for injuries that she had sustained in her battle in a tournament held within Konoha in which powerful ninja the world over were invited. As they had treated her, female hormones had become mixed into her IV. While not apparent at first, her body gradually became that of a female. Shocked at the change initially, she eventually grew into the change, adjusting to how it had changed her life and continued her career as a ninja. With the time that had passed over the years, Kurono has greatly increased her Suiton capabilities, even allowing her to use water based jutsu without a need for water. While she doesn't consider her goal as being completed yet, she knows she'll one day surpass even the Nidaime Hokage.