Post by Hakai Hozuki on Apr 26, 2013 10:53:17 GMT -5
Just Who Do You Think You Are?..
Main Account:
Schmyles
Other Characters:
"C"loud
,
Hitomi Senju
,
Shiro Hebi
,
Tina
I've Never Heard Of You Before.
Name:
Hakai Hozuki
Nicknames:
Mute
Age:
11
Gender:
Female
Village:
Kirigakure
Rank:
Genin
Clan:
Hozuki
Kekkai Genkai:
Hydrification Technique
Status:
Shinobi; Genin
Nor Have I Ever Seen You..
Physical Appearance: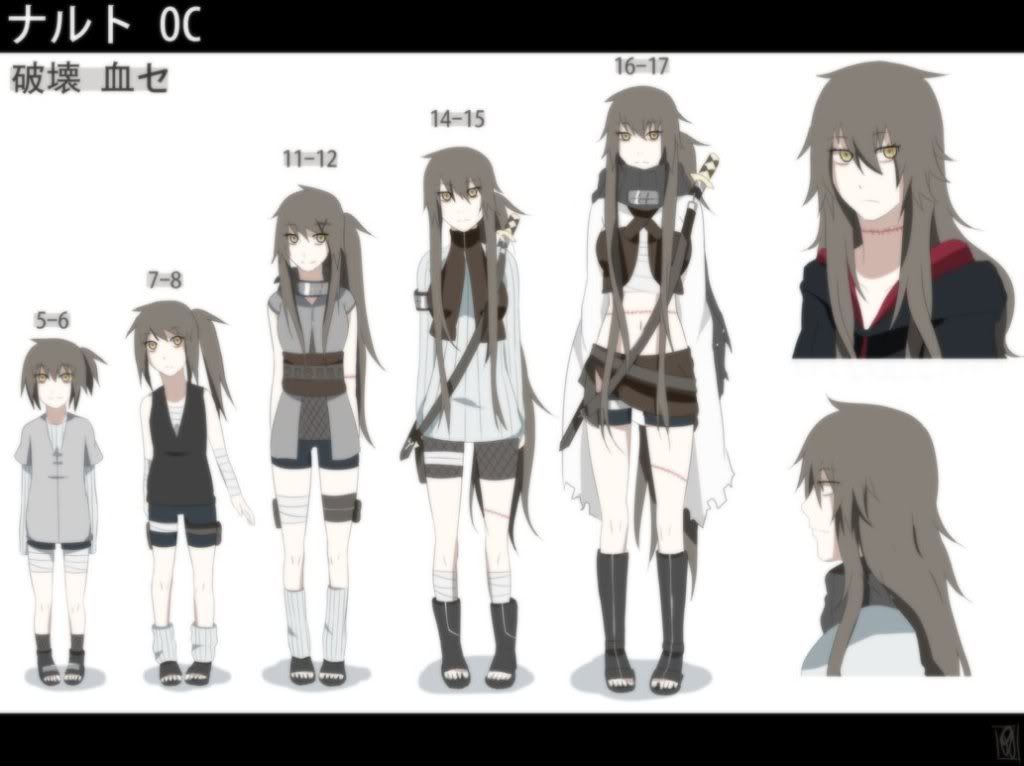 Extra Marks:
N/A
So What Have I To Remember You By?
Personality Traits:
- Kind Hearted
- Mute by Choice
- Proud
- Noble
- Loyal
Strengths:
- Intelligent
- Brave
- Honor Bound
Weaknesses:
- OCD
- Social Anxiety
- Silent
How Did You Become Who You Are Today?
Family:
Deceased
Guardian:
Independent
Backstory:
Born to a lonely mother, Hakai came into this world. Her mother was not a kunoichi, nor was she in a clan. However the man who raped her, and impregnated her was. He was a Hozuki. He's dead now. Only after the fact that Hakai slit his throat when he was solid-- but-- that's getting ahead of the story. Lets begin shall we?
Out on a stroll one day through the swampy regions of Kirigakure outskirts, Hakai Nemo was picking rare flowers. It was then that a man spotted her, an evil hearted hozuki. He proceeded to rape her, leaving her with a belly that was growing a child. This was not a pleasant tale at all. Once the baby was born, a little girl, she was named after her mother, by tradition, Hakai. However do to the Hozuki man she bore the last name Hozuki. Along that she gained the skill the clan had. Hydrification technique to be exact.
Living a normal child's life, Hakai was sent into the shinobi academy upon request to her mother. She was five at the time, and wanted to show other kids that she was someone not to mess with. School days went by, seasons past, but when Hakai was eight she came hom from school one day to see her dead mother on the floor, and a large Hozuki man standing over the corpse. Silently she moved along the walls of the room, drawing out a kunai. With a quick slash when the man turned she slit his throat, and watched him bleed to death. He was here to retrieve his daughter forcefully, but Hakai, the mother, would not allow a rapist to do such a thing. Now Hakai was alone in this world.
Silently she went on, developing OCD around the house, and Social Anxiety when it came to meeting new people. She was strong, smart, brave, etc, but she just couldn't say hi to a new person properly. Or even talk right. She hated talking. Therefore when she became a genin she was given the nickname "Mute", one that would stick easily to the other genin around her age. She was eleven now.
Show Me What You Can Do.

Stats:


Ninjutsu:
200/3000
Taijutsu:
150/3000
Genjutsu:
0/3000
Fuinjutsu:
0/3000
Kenjutsu:
0/3000
Special Traits Stats:
Chakrapool:
0/1000
Chakra Control:
50/1000
Speed:
0/1000
Energy:
0/1000
Physical Strength/Endurance:
0/1000
Mental Strength/Will Power:
0/1000
Affinities:
Suiton (Water Style)
General Equipment:
Shuriken, Kunai, Senbon, Wire, Exploding Tags, and Smoke Bombs.
Special Equipment:
N/A
Jutsu
Mission Log:S:
0
A:
0
B:
0
C:
0
D:
0