Post by Prodigy, Kiba's Mate 8D on Jan 11, 2013 22:30:18 GMT -5
[style=text-align: justify;text-indent:40px; font-family: helvetica; text-shadow: 0px 0px 2px #949494; text-transform: uppercase; font-size: 30px; font-weight: bold; letter-spacing: -3px; color: #64ada2; top: 24px; position: relative;]Oshoku Saibō (Corruption Cells; Cells of Corruption)[/style]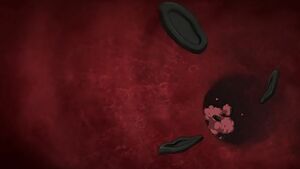 [style=text-align: justify; text-indent: 95px; font-family: Arial Narrow; text-transform: uppercase; font-size: 10px; color: #816f74;]Kekkei Genkai•[None]•Mioku•C-B[/style]
- - - - - - - - - - - - - - - - - - - - - - - - - - - - - - - - - - - - - - - - - -
[/style][style=width: 455px; margin-top:13px; border-bottom:2px solid #101010;][/style][style=background-color: #242424; opacity: 0.8; color: #64ada2; font-family: Helvetica; font-size: 8px; letter-spacing: 1px; text-align: justify; width: 70px; padding: 3px; border-right: 2px solid#101010; border-left: 2px solid#101010; border-top: 1px solid#101010; border-top-right-radius: 15px; -moz-border-radius-topright: 15px; border-bottom-left-radius: 15px; -moz-border-radius-topleft: 15px;]
Details
[/style][style=width: 425px; padding: 15px; color: #816f74; font-family: helvetica; font-size:9px; text-align: justify; height: 60px; overflow: auto;]
Oshoku Saibō
(Lit. Corruption Cells)
is a Kekkei Genkai that was established via an experiment on the blood, specifically the cells. It also involved very important and careful surgery with the heart and brain. A rouge scientist, whom just happened to be searching high and low for the perfect test subject, kidnapped a young boy, and found the boy to be perfect for the experiment. It was a gamble of the kid's life, but he could care less. If the test would be a success, then he'll allow to boy to leave with his life. He could call it... A gift, an award. An award for being able to survive through such a thing being done on him.
Fortunately, the boy had indeed survived the experiment on three very important parts of his body and was able to leave with his life. The rouge whom implanted the new homemade KG in the boy concluded that things would go out exactly as he made it to be, because if this experiment was a success on his test subject, then the kid should be able to unwrap his new gift in time and put it to good use. This was how, the Oshoku Saibō was born. Experiments, that nearly caused a youth his life.
The Oshoku Saibō is a venomous Kekkei Genkai that effects the blood and personality of the host. When implanted in the host, it will begin to 'corrupt' the user's blood cells and tint them black. Through this, the blood will become slightly aggressive towards it's host and make them prone to becoming sick. It can also turn the host's thoughts and feeling to rather evil and gruesome feelings. Though, a average host of the Kekkei genkai, E.G someone who has not received the proper implant and surgery that complemented and welcomed the surgery, would not survive without taking something that would suppress the effects of the Kekkei Genkai. The being's system must be messed with so that it would accept the black blood more easily, and the sole user of the Oshoku Saibō luckily had this done on him.
When the host begins to mature more, they will notice that the blood seems to be reacting towards their chakra, and using proper chakra control, they will slowly learn how to manipulate and bend their own blood at their whim. It seems quite difficult at first but the user will get the hang of it quickly, the problem is performing some of the official jutsu of the technique.
Speaking of jutsus, when the black blood cells enter the bloodstream of a foreign body, the cells could easily turn against the opponent whom holds the runaway cell and make them ill unless removed or treated to be exterminated from the body of the holder.
[/style][style=width: 455px; margin-top:13px; border-bottom:2px solid #101010;][/style]
I know it sounds a bit or more like bullsh*t, I suck at descriptions