Post by anbukurono on Apr 13, 2011 1:16:37 GMT -5
Name:
Koichi Daito
Age:
26
Gender:
male
Height:
6'0
Weight:
175 lbs
Appearance:
Male:
(minus all the kunai and shuriken)
Female: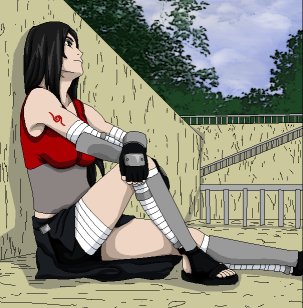 Personality:
Intelligent, Kind towards those who he cares about, merciless to those who are his enemy. Koichi, having been within missions of gathering information, has gained a skill at acting out roles that will please those he's getting information from.
Habits:
Overstaying in his female form when he uses it.
Relatives:
Wife: Emi Daito, Son: Ren Daito, Daughter: Asuka Daito
Home Village:
Iwagakure
Current Village:
Iwagakure
Clan:
Daito
Kekkei Genkai:
Kaneton
Demon/Curse Mark:
N/A
Transformation:
female form
Equipment:
Concealed Mouth Ember, Exploding Note, Smoke Ball, Soldier Provision Pills, Kunai, Shuriken, roll of wire,
Special Equipment:
Raitsume and Chakra Gauntlet
Rank:
Jounin
Ninjutsu:
1000
Genjutsu:
100
Taijutsu:
950
Fuuinjutsu:
250
Special:
700
Special Traits:
Skilled in chakra control to be able to affect metal without other chakra flowing through it.
Affinities:
Metal (kekkei genkai), Earth, Fire
Full Jutsu List:
Steel Prison
Mud River
Rock Dislodgement
Doryuu Katsu - Earth Style Split
Earth Dragon Projectile
Steel Release: Impervious Armor
Steel Wall
Steel pitfall trap
Steel canyon
Rock bombardment
Kage buushin
Fireball Jutsu
Amorphic steel wall
pheonix flower jutsu
Shinjuu Zanshu no Jutsu - Double Suicide Decapitation Technique
Katana Buushin
Haisekishou - Burning Ash Accumulation
Karyuu Endan - Fire Dragon Flame Projectile
Kasumi Enbu no Jutsu - Mist Waltz Technique
Gyorai Shin - Torpedo Needle
Background:
Koichi was born to the Daito clan of Iwagakure. As such, he was gifted with the kekkei genkai of Kaneton. Koichi had lived a normal life up until he had turned 6 when his kekkei genkai had awakened. While he initially couldn't control it very well, his father trained him, showing him how to bring it under control as well as explaining the significance of the ability. In spite of the power he had been gifted with, Koichi preferred to use it for his own fun rather than anything too serious.
At age 7, he entered into the ninja academy where he kept well with his grades, impressing his teachers with his ability in ninjutsu. After the 5 years in the academy, Koichi graduated and was paired into a team with his future love, Emi and another girl who would become their good friend, Kila.
In their years as a team, the 3 of them worked especially well, adapting to both Koichi and Emi's advanced nature manipulation along with Kila's genjutsu ability. With their team combination, they were very successful in their missions working together. In spite of their abilities though, they didn't pass their first Chuunin exam. However, upon turning 14, they all made it through, passing to Chuunin. It was after this exam that Koichi began a relationship with Emi. In spite of their team having been disbanded after this, they all would work together in occasional missions, their teamwork recognized.
Koichi at age 15 become an experiment of cellular regeneration for Nero resulting in two side effects, the first being that his body temporarily took on a female form and the second being cellular memory, allowing his cells to take on any form they previously had. This had allowed for him to return to his normal self, but his cells retaining the memory of the other. Finding this to be a useful ability, Koichi made his own use of it whenever he needed to do a covert mission.
As time passed, Koichi would eventually pass the Jounin exam, becoming a Jounin within Iwa. Since that point, Koichi has been a part of many battles for Iwa, always fighting skillfully on the battlefield. As such, Koichi is respected among his colleges in the village.